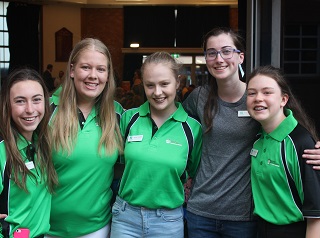 Applications for the 2021 program are now open! Applications close on 28 August 2020.
Our Youth Leaders Program is a volunteer platform developed to provide an opportunity for young people aged 14-24 to become involved in the Toowoomba Regional Council. This program allows youth from across the region to learn about local communities and groups, local events, activities and services available for young people.
We currently service a regional population of 161,000 people (2016 ABS), with approximately 27,500 of these residents being young people. The Youth Leaders play an important part in ensuring that our programs are relevant, meet the needs of local young people and have the greatest reach possible. The Youth Leaders are also provided with opportunities to learn Council processes and the role of local governments. It also encourages them to have a say and assist in developing ideas that will benefit not only the young people of the region but the wider community.
The Youth Leaders are required to identify and share information on community issues and opportunities for young people to connect to events, programs and local service providers.
The Youth Leaders represent areas from all across the entire Toowoomba Region. They are encouraged to have a say in the development of their communities and to represent the voice of young people on community and Council-led programs.
2021 Youth Leaders Program
There are currently 25 positions available for the 2021 year, with applications closing on 28 August 2020.
Fill out this form or contact us on 131 872 for a hard copy.
Submit the form via:
Post: 'TRC YOUTH LEADERS APPLICATION', Community Development Branch, Toowoomba Regional Council, PO Box 3021 Toowoomba Qld 4350.
Email: youthleaders@tr.qld.gov.au, Subject: TRC Youth Leaders Application.
Counter: Hand in the form to one of our Customer Service Centre.
Fax: (07) 4631 9179.
About the role
Key criteria
Applicants MUST live, work or study in the Toowoomba Region.
Applicants MUST be between 14 and 24-years-old at the time of application.
Attendance at all of the training camps is compulsory!
Nominees must also be committed and able to attend fortnightly meetings used for skills sessions, presentations, reflection and discussion (dates as well and topics to be set at the training camps). Nominees must also be committed to attending community and youth-driven events identified by the group. The program will require a time commitment of approximately eight hours per fortnight, which must be considered before applying.
We have adopted an Equal Employment Opportunity (EEO) Policy and Plan, and all recruitment, selection and appointments will be based on merit. All employees and volunteers of council are expected to comply with council policies.
Some suitable candidates may not be chosen for the leadership program due to limited numbers. Individuals not selected are strongly encouraged to reapply in subsequent years.
Skills required
Sound people skills and a willingness to work with and for young people from across the Toowoomba Region.
Willingness to work with Councillors, Council staff, the Regional Youth Advisory Committee and other youth-focused organisations.
Willingness and ability to communicate and consult with; peers, young people from across the region, and the wider community, about youth issues, needs and ideas.
The ability and commitment to attend monthly meetings and participate in community programs.
Time and capacity to attend community and youth events across the region as outlined in the key criteria.
Willingness to undertake training as required.
Cost
As part of Toowoomba Regional Council's commitment to the development of young people, all reasonable costs associated with the Youth Leaders Program will be covered for participants. This will include:
costs associated with the camps (accommodation, transport, food, activities, guest speakers and training)
apparel (including shirt and name badge)
program meetings (venue and food)
graduation (venue, food and guest speakers)
any other relevant training offered throughout the program
Key responsibilities
Attend all Youth Leader meetings as set by the group and the Team Leader Community Development for Youth and Youth Development Officer.
Maintain regular contact with the Team Leader Community Development and Youth Development Officer regarding projects, programs, as well as youth and community issues/priorities.
Attend appointments set by the TRC Youth Leaders Program or at the request of the Community Development team.
Lobby on behalf of the young people in your community and the TRC area.
Actively promote young people's positive contributions to the community.
Actively promote the TRC Youth Leaders program as well as promoting other youth programs supported by Council (including the Youth Connect program).
Identify and ensure that at least one new person applies for the TRC Youth Leaders program each year.
Please note that these responsibilities may change throughout the program depending on the projects being delivered and the needs of these programs.
Position objectives
Represent the voice of all young people when relating to and working with the Community Development team and other representatives of the Toowoomba Region.
Encourage young people to be involved in Local Government, community planning and decision making processes.
Develop applicants to become youth representatives of Toowoomba Region on community and Council-led programs.
Communicate effectively with all young people about community and youth events happening in the area.
Review the youth strategy and youth action plan to ensure that it remains representative of all young people across the region.
Connect with other leaders across the region to increase youth networks and collaborative projects.
Accountability
As a Toowoomba Region Youth Leader, you will be required to report back at monthly meetings on issues affecting young people. You will also be required to discuss ideas on how to manage these issues, share your knowledge of programs and projects that could benefit other young people across the region, as well as presenting regular updates on programs and projects that you are involved with.
You will be accountable to the Community Development, Tourism and Facilities Branch through the Team Leader Community Development – Youth. All reports, minutes and other relevant information will be collated and raised at the Regional Youth Advisory Committee meetings, as well as being noted in the Community Development Team Leader's end of month reports."
Past achievements
The Youth Leaders Program commenced in early 2015 with 20 members being selected to represent the region. Since the program commenced youth leaders have:
delivered national Youth Week activities across the region
delivered partnership programs with local NGO's
worked with other Council departments to deliver community and youth focused engagements, surveys and activities
run environmental programs
organised concerts
set up skateboarding events
organised outdoor movie nights
assisted to raise over $22,000 for other local youth services and community fundraisers
delivered many more local and regional activities.
Youth leaders have represented Toowoomba at:
Queensland Youth Conference
National Youth Conference
Queensland Town Planning Awards
National Town Planning Awards
Shaping SEQ Youth Summit
Queensland Youth Strategy workshops.