The Milne Bay Aquatic and Fitness centre increased the number of patrons allowed in the centre from Monday 13 July. Gym, Group Fitness classes, Hydrotherapy pool, toddlers pool and 25m indoor pool (recreational, lap swimming, hydrotherapy, walking and deep water exercise and Aqua Aerobic classes), spa, sauna, waves swim school and creche reopened. The 50m outdoor pool reopened on Monday 14 September.
We will continue to follow the Queensland Government's COVID Safe Industry plan.
Our operating hours:
Monday – Friday 6am – 8pm
Saturday 7am – 4pm
Sunday 7am – 12pm
Public Notice: Due to a planned Ergon Energy power outage, the Centre will be closed on Sunday 20 September 2020.
Member Notice: Memberships resumed on 13 July 2020 with the first direct debit payment on Friday 17 July. If you don't want to resume your membership please email us immediately at aquaticandfitness@tr.qld.gov.au with the date you would like to restart. This notification must be in writing, and we appreciate your patience as we do our best to cater for a variety of requests.
Thank you to everyone who has made bookings, and followed directions during Stage 2.
Bookings will still be required for:
Program Pool (rehabilitation) – Maximum 4 persons at any one time
Milne Bay Group Fitness Classes (excluding Bootcamp and Aqua Aerobics classes) – Maximum 13 persons at any one time
Highfields Group Fitness classes
Waves swim school Term 3 lessons (Milne Bay)
Services to be offered in Stage 3:
Full gym service and a limited Group Exercise timetable including Aqua Aerobics – BYO waterbottle, towel AND yoga/pilates mat (if required).
The Creche will be open Monday, Wednesday and Friday 9am – 11am.
Change room and shower access for limited numbers.
Spa and Sauna access for limited numbers – maximum 2 persons at any one time
During Stage 3 there will be no café/canteen service.
There will be limits on numbers allowed to access various pools, gym classes, gym, spa, sauna. You will be guided by staff upon entry. You may be asked to wait if your area of choice is at capacity.
MILNE BAY POOL
We have resumed access to all indoor pools for recreational, lap swimming, rehabilitation (bookings required), walking and running. Lifeguards and staff may direct you to ensure spacing requirements are met.
MILNE BAY GROUP FITNESS CLASSES
Group Fitness classes resumed Monday 13 July. Bookings are essential for all classes excluding Bootcamp and Aqua Aerobics. Classes are 45 minutes and participants will need to clean their own equipment after class. Bootcamp is outdoors. Yoga and Pilates mats are no longer available, please bring your own or see trainers as there are a few that can be purchased at the centre.
Thank you for your patience and understanding with the reopening of both centres. Council is committed to adhering to the rules set by the State Government, to provide a safe environment for our community.

We look forward to welcoming you back when you are ready.
_______________________________________________
The Milne Bay Aquatic and Fitness Centre has a range of activities and classes available in the pool and at the gym.
Open the blue banners below for more information.
Fees and charges
PDF
Price list MBAC (PDF for print)
Online
Entire listing of fees and charges - all charges for Milne Bay Aquatic & Fitness Centre.
Pool fees - pool fees only.
Full membership fees - covers access to the pool and gym at Milne Bay Aquatic & Fitness Centre (and Highfields Fitness & Recreation Centre).
Open hours
Open hours vary for the different areas within the facility. All open hours are detailed in the first blue slider - 'Open hours and centre facilities'.
Contact details & social media
Contact us via phone on 4688 6330. You can stay up-to-date with the latest news via the centre's Facebook page or Instagram account.
Location
Milne Bay Aquatic & Fitness Centre is located on the corner of Herries and Victoria Streets, Toowoomba. View Google map.
News and events
Open hours and centre facilities
Opening times are:
Gym
Monday - Friday 6am - 8pm
Saturday: 7am - 4pm
Sunday 7am - 12pm
Public holidays: as advertised
Outdoor 50m pool
Open for the Summer season from Monday 14 September, 2020.
Monday - Friday: 6am - 8pm
Saturday: 7am - 4pm
Sunday: 7am - 12pm
Public holidays: as advertised
Indoor 25m pool and toddler's pool
Monday - Friday: 6am - 8pm
Saturday: 7am - 4pm
Sunday: 7am - 12pm
Public holidays: as advertised
Program pool, spa and sauna
Monday - Friday: 6am - 8pm
Saturday: 7am - 4pm
Sunday: 7am -12pm
Public holidays: as advertised
Wave pool and inflatables (currently not in operation)
Saturday - Sunday: 12pm to 4pm
Public holidays: as advertised
Monday - Friday (school holidays): 12pm - 4pm
(Age restrictions apply on the inflatables)
Waterslide - currently closed.
Facilities
50-metre outdoor lap pool
25-metre heated indoor lap pool
Fully equipped gymnasium
Group fitness rooms
Personal fitness instruction available
Therapy/training pool
Children's wading pool
Spa and sauna
Poolside kiosk/cafe
Fully enclosed 45-metre water slide (currently under maintenance)
Water spouts
Mushroom waterfall
Childcare
Pro shop
Onsite parking
Available for parties, please contact us for further information
Access ramp
The Milne Bay Aquatic and Fitness Centre participates in the Royal Life Saving Society of Australia's KEEP WATCH Program. Our qualified lifeguards manage and supervise aquatic activities to ensure maximum safety and fun. However, children under the age of 12 must be accompanied by an adult aged 18 years or over, or by the legal parent or guardian of the child, at all times during their stay in the aquatic area. For 0–5 year olds and non-swimmers, a high visibility wristband will be worn as a means of identification, a parent or guardian needs to be in the water at all times and within arms' reach of the child. Please remember your children are your responsibility.
Swimwear policy
The swimwear policy across our pools is based on guidelines from the Royal Lifesaving Society of Australia (RLSSA) and from Qld Health. The RLSSA Guideline for Safe Pool Operation makes references to appropriate swimwear in public pools.
Adequate and hygienic recognised swimwear made from lycra and nylon must be worn at all times in the water. Infants are required to wear only recognised waterproof aqua nappies plus tight leg swimwear.
While we are committed to sun-safe practices, rash shirts are the recognised swimwear and not cotton tee shirts.
Unacceptable swimwear
If you do not wear the appropriate swimwear you will be asked to leave the water.
Inappropriate swimwear includes and is not limited to:
Denim
Cotton (including tee-shirts)
Leotards
Underwear
Work clothes
Street clothes
Sport/gym clothes
Footwear
Memberships
Membership fees can be found by viewing the Milne Bay Aquatic and Fitness Centre fees and charges.
Aquatic (wet area) membership
An aquatic membership gives you unlimited access to the aquatic area for the term of your membership. This includes swim, spa, sauna and aqua exercise programs.
Full centre membership inclusions
Includes reciprocal rights to Highfields Fitness and Recreation centre.
1. Use of gym facilities
Equipment available:
Fully equipped cardio theatre with a large DVD projector playing the latest music
Treadmills and X-trainers with built-in entertainment units
Rowers and stepping machines
Upright s3u expresso bike
Resistance equipment including fixed weight machines and free-weights
Please remember you must have a towel at all times - no towel, no workout.
2. Aquatic facilities (including pools, spa and sauna)
3. Group fitness classes
A list of available classes can be found below in the blue slider titled 'Regular classes'.
4. Face-to-face program
As part of our gym membership, we offer a face-to-face program which comprises one 30-minute session each week, for a total of five weeks with trainers, who provide free weigh-ins, measurements and training programs every 6-8 weeks and free skin-folds for members.
Week one: health profile check one (compulsory)
Current medical condition assessed (including injuries if applicable)
Measurements are recorded (height, weight, etc)
Goals are recorded
Discuss the type of training program required
Weeks two and three: ongoing training
Trainer will run through the training program by demonstrating each exercise
Trainer will assess form and technique to ensure safety and correctness of movement
Trainer available to answer questions about the program and modify the program if needed
Week four: nutrition
Trainer will discuss any eating habits that the client may want to change (diets are unable to be provided)
Trainer can give advice on how to achieve nutrition and health goals
Trainer available to give advice on the training program, correct form/technique, program modifications, etc
Week five: health profile progress check
Weight and measurements recorded
New injuries or medical conditions recorded
New program created and discussed
Personal training (additional cost to membership)
Personal training is available to members and non-members for an extra fee.
30 or 45 minute sessions available.
Small group personal training (additional cost to membership)
Small group personal training sessions are available (up to 5 people).
1 hour training session for $70. Participants can split the cost.
Car parking options
For the convenience of patrons, the Milne Bay Aquatic and Fitness Centre has parking available on-site, with extra car parking spaces available for patrons in the Water Street car park across the road.
Regular classes (included in membership)
Group fitness classes
Please see below times for our group fitness program or open the PDF timetable.
Group fitness timetable MBAC (for print)


Monday
8.15am Aqua
9.15am Pilates
10.15am Tai Chi/Qigong
5.30pm Power
Tuesday
6am Bootcamp
8.15am Aqua
9.15am Vets
5.30pm Pilates
Wednesday
6am Bootcamp
8.15am Aqua
9.15am Yoga/Stretch
6.15pm Aqua
Thursday
8.15am Aqua
9.15am Zumba Gold
10.15am Steady Steps
5.30pm Pilates
Friday
6am Bootcamp
8.15 Aqua
9.15am Vets (Aqua)
9.15am Power
All classes are subject to change due to participation numbers.
Class information
Bootcamp: Bootcamp is a team based program combining old and new school training techniques to keep you engaged and motivated.
Power: Challenge all of your major muscle groups with an addictive, fat-blasting combination of the most effective weights room exercises (squats, lunges, presses, and curls etc.) and the latest fitness revolutions in muscular endurance training.
Pilates: Pilates offers a low impact exercise method through the means of flexibility, muscular endurance and strengthening movements with an emphasis on postural alignment, core strength and muscular balance. .
Yoga/Stretch: This class will challenge you to work on any imbalances you may have. It aims to strengthen weak muscles, and lengthen tight ones, whilst simultaneously improving balance and focus.

Vets only: A series of activities designed for our veterans to enjoy together. For veterans only.
Steady Steps: The low impact exercises in this class are designed to improve muscle strength, balance, flexibility, coordination, and confidence for those who are older, or have injuries / joint problems that restrict normal movement.
Strength: A full body strength class that utilises barbells and dumbbells to complete a number of compound movements.
Zumba Gold: A modified Zumba Fitness class to suit older adults or beginners that brings all the fun and benefits of the traditional Zumba class at a lower intensity.
Aqua Fit: Bringing bootcamp into the pool. A combination of water resistance and equipment based exercises injected into a high energy circuit will have you torching calories and toning muscles you weren't sure you had in a delightfully refreshing way.
Class safety
Remember to wear clothes that are comfortable and either aerobic or cross-training shoes. Please bring a towel and water bottle. Drink plenty of water and arrive 10 minutes before the start of the class to ensure you are properly warmed up for the class. Always inform the instructor before class begins if you are new to the type of class or have any health problems or concerns.
Adult Learn To Swim Classes
Whether you want to learn to swim, need some help with stroke correction, or are after some private lessons, we offer adult swimming lessons for all levels at Milne Bay Aquatic and Fitness Centre.
To book call 4688 6330 or email us.
Adult learn to swim
Beginners, stroke correction and development (1 instructor to 4 adults per class)
$14 per class
Adult swim fit classes
Stroke correction and development, endurance and speed
$10 per class
Please contact the centre prior to attending the class
Adult private lessons
$35 per lesson (paid upfront for amount of lessons chosen)
Time and frequency discussed at time of booking (depends on instructor availability)
Body composition analysis
Milne Bay now has an InBody composition analysis machine which can provide a detailed description and print out of skeletal muscle mass, body fat in kilograms, total body fat percentage, visceral fat, total body water, segmental muscle and fat analysis, bone mineral content and also basal metabolic rate. The scan only takes 15-20 minutes and is completed fully clothed.
This can help in monitoring fitness goals, weight loss, and weight gain.
Cost
MBAC/HFR members: $25 per scan.
Non-members: $35 per scan.
How to book
Please contact staff at the centre on 4688 6330 or send us an email to book an appointment for your scan.
Waves Swim School
Bookings for term three are now open. Term three runs from 13 July to 17 September. (10 week term)
Our swim school will run a limited program during term three. Please contact the centre on 4688 6330 or complete the online application form.
Our swimming programs range from infants (6 months), through to learn-to-swim, development, adult learn-to-swim and swimfit programs. Participants are supported to progress steadily at their own pace. Terms and conditions for Waves Swim School can be found on our 'Learn to swim' page.
During term three the swim school and the aquatic and fitness facility will follow the COVID - SAFE plan according to the recommended stage 3 requirements. Please contact the centre for details of restrictions.
Cost: $14 for the first child per lesson, $13 for the second child and $12 for three or more children in the same family.
Times: Program and lesson times vary according to level of ability. Please confirm the day and time of lessons with staff at time of enrolment.
Bookings: Simply fill in the Pools - Waves Swim School application form (online).
Participants will be assessed by staff to find the most suitable level.
The Waves Swim School aquatic education program is registered with Swim Australia. Our programs are run from three pools, with the indoor program pool, heated to 34 degrees, the indoor 25-metre pool heated to 29 degrees, and the 50 metre outdoor pool heated to 27 degrees. The air temperature is controlled and all of our pools are ozone-treated for the highest possible water quality. The 25 metre pool and the 50 metre pool both have solar heating.
Programs
Infant classes
Classes are run in the mornings and are a fun water-based confidence and familiarisation class using toys and songs to encourage your baby to become familiar and confident in the water.
Disability water safety lessons coming 2020
Our disability water safety program aims to teach people with specialised needs to become more water aware, to be safe in and near water and develop swimming skills.
Adult learn to swim
Whether you want to learn to swim, need help with technique or would like private lessons, we offer adult swimming lessons for all levels.
For more details on lessons visit the Waves Swim School page.
Safety week
For one week each term, Milne Bay Aquatic and Fitness Centre runs a 'safety week' when children take part in activities designed to teach them how to keep safe in aquatic environments. During this week children participate in circuits that involve wearing personal floating devices (life vests), using various flotation aids like balls and eskys, basic rescues using clothing and towels, treading water and swimming through currents and more.
Adult SwimFit classes
Love swimming, but feeling a little bit unmotivated? We have the perfect class for you!
Adult SwimFit classes have been designed to help push your limits, improve stroke correction and development while you enjoy a fun, friendly and professionally instructed group environment. Whether you're looking to improve your swimming skills and speed or just looking to get your general fitness back up and swimming, this is the perfect group for you!
Cost: $10 (casual) per session or you can purchase a ten-session pack for $80.
Bookings: Bookings are essential. Call us on 4688 6330 or email if you require any further information.
Hydrotherapy pool
There are many benefits to hydrotherapy. It can decrease pain and swelling, increase function, strength, and range of movement. The hydrotherapy pool water temperature is maintained between 33 degrees and 34.5 degrees. It has been shown to improve mood and sleep in some, fitness and weight loss in others. The hydrotherapy pool at Milne Bay is a unique service and users must gain a referral letter from their doctor.
Specific times are allocated to groups to accommodate the high need. Please see the hydrotherapy pool timetable. If you have any questions please email or contact us on 4688 6330.
Downs Little Lifeguards
Downs Little Lifeguards is a fun and educational drowning prevention program for children aged 8-17 years and their parents/guardians. Our main focus is to educate children and their guardians about potential dangers and survival strategies to combat these dangers, encourage confidence through hands-on experience and provide knowledge so everyone can help to save a life. The program is run by Royal Lifesaving volunteers and Toowoomba Region Aquatic and Fitness staff. This is not a learn to swim program.
Downs Little Lifeguards program
The program runs during school terms 1 and 4 and offers school-based sessions, community days, and day trips for children and families to the beach and river.
Children and families will have the option to participate in ocean, river and pool awareness activities and practice skills to potentially save a life. This is not a learn to swim program.
The program is based around:
various aquatic environment awareness
survival swimming and water safety
rescue and recovery techniques
resuscitation
recreational safe play.
Students will:
use flotation items such as surfboards, eskys, buckets, ropes and PFDs
use various recreational play equipment, water trampolines, kayaks and body boards
learn CPR on pool deck or by the ocean or river
practice survival swimming in currents and still water
learn rescue techniques using own self or apparatus
try various safety entries and exits.
Upcoming program
Water Warriors Weekend - Date to be announced 2021
Saturday: Miami Beach 9am - 3pm
Sunday: Tallebudgera Creek 9am to 12pm
Come join the Downs Little Lifeguard Warriors and:
Catch the waves on the surfboards
Be challenged by the swimming conditions and learn survival skills
Experience life saving techniques with professionals
Learn about currents and tidal changes
Make new mates
Learn about CPR and practice rescues
This 2 day program is a fun and educational weekend aimed at decreasing the drownings we have in our region. The program has been running since 2014 by volunteers and we have had the best time teaching over 400 children survival skills in rivers, dams, creeks and pool environments. Take a look at our past programs below in the blue slider.
Beach day at Miami Beach
9am arrival and welcome
Morning activities (and light refreshments supplied)
12pm BBQ lunch
Afternoon activities (and light refreshments supplied)
3pm conclude
River day at Tallebudgera
9am arrival and welcome
Morning activities (and light refreshments supplied)
12 noon conclude and hand out of certificate

Locations of program:
Miami Beach Surf life Saving Club - 2 Hythe St, Miami QLD 4220
Tallebudgera Creek - Neptune Surf Life Saving Club - 1527 Gold Coast Hwy, Palm Beach QLD 4221
Requirements
Children must be 8yrs to 17yrs of age.
Children and adults must be capable of swimming 50m continuously (adults - if participating in water activities).
The program cost of $20 per program must be paid.
An adult must be responsible for a child or group of children on the day.
We encourage adults to volunteer either in the water, on land as spotters or assisting with the BBQ/refreshments.
Children may be split into two age groups. Parents, please note that siblings may be separated to meet age group requirements. This allows for 2 levels of activities.
Children are encouraged to wear the Downs Little Lifeguard rash shirt which can be purchased at a cost of $25 (if a rash shirt is owned from a previous program, please wear it on the day).
How to apply
To join the Downs Little Lifeguards program fill in the online form: Pools - Downs Little Lifeguards application form (online).
Past programs
In February 2020 the Weekend Warriors program was born and children and parents set off for a whole weekend of fun and education water safety experiences. We headed off to Miami beach and Tallebudgerra Creek. This was the first year we ran the program over two consecutive days and it was a huge success! Children and parents felt the force of dumping waves and strong tidal changes. What ever the conditions the beach threw at the participants they fought through and swan, rode boards and completed rescues aided and unaided.
The Creek conditions were a little kinder to us as we experienced calm water, swam with the current wearing PFD's, learnt how to board, paddle and, made rescues using ropes and rescue tubes.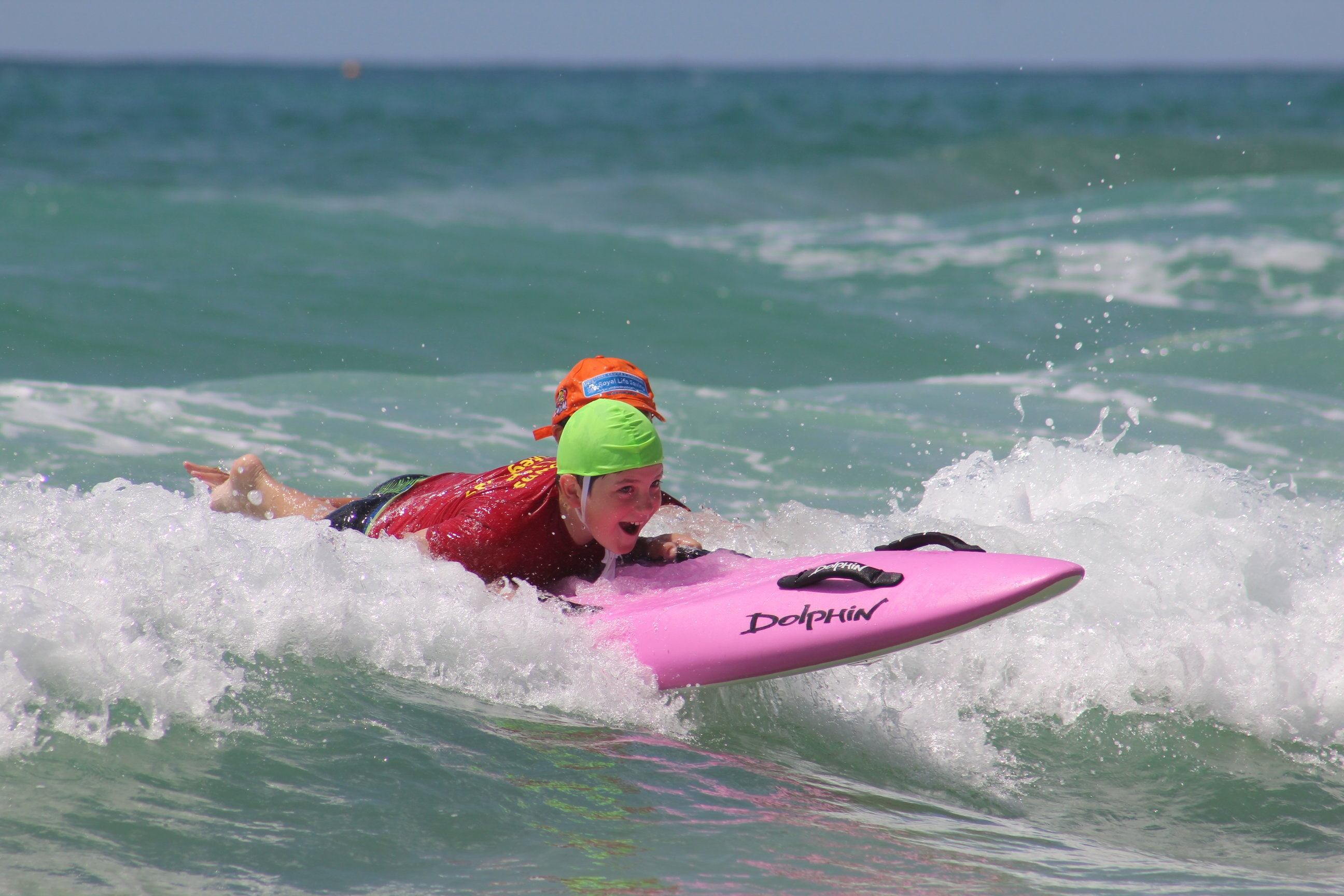 In March 2019 children and parents gathered at Miami Beach for a fun filled day of beach and ocean activities. We learnt vital skills to enjoy the waves such as duck diving, body surfing and how to identify, avoid and escape rip currents. We also had the privilege of using the nipper boards to experience paddling, riding the waves and practice rescues. This was a highlight for many of the participants.

In February 2019 children plus parents experienced a fabulous day at Leslie Dam. Throughout the day we practiced survival and safety skills for enjoying the water. One of the key skills learnt on the day was how to complete rescues to help someone else and keep yourself safe at the same time. This was done through scenario based activities.
In March 2018 the Dam Busters day was held at Leslie Dam YMCA camp. Families experienced fun and safe recreational play using water trampolines and kayaking. Children were required to work as a team to assist peers climb onto the trampolines and kayaks in deep water, then practice rescue techniques using contact and non-contact tows, unconscious rescues (role played) and CPR.
In February 2018 families joined us at Miami Beach Surf Life Saving Club and enjoyed a hot day at the beach. The morning involved children battling it out in beach sprints, learning to bodyboard, ride in waves and climb to the lookout to identify rips and current changes.
The afternoon saw children and adults join teams and participate in relays using boogie boards and fighting the currents. A brilliant day was had by all!


In February 2017 families travelled to Leslie Dam YMCA Outdoor Education Centre and engaged in a full day dam experience. Children and adults learned CPR and the dangers in and around dams, weirs and water channels in theory sessions.
Participants practised rescues and survival methods using everyday items commonly used at dams during recreation such as esky's, paddleboards, kayaks, inflatable tubes, ropes and personal flotation devices.


In October/November 2015 children and adults participated in a two-day pool course and a day trip to Neptune Royal Surf Life Saving Club where the focus was on tidal change, currents, rips and river swimming.
In February/March 2014 children and adults were involved in a 4 session program where 3 sessions were held in the pool learning rescues, tows, treading water, swimming with clothes and survival techniques.
A day trip was held at Neptune Royal Surf Life Saving Club where children practised what was learned in the pool while incorporating the natural elements of the tides, rips, and currents.
Program achievement
In August 2017, the Downs Little Lifeguards program was announced as the winner of the National Aquatic Industry - Excellence in Aquatic Safety Public Messaging and Education.
Creche
The creche is open from 9am to 11am Monday to Friday and is available for your child/children to play in a safe and friendly environment while fully supervised by qualified staff. Bookings are essential as places are limited. Contact Milne Bay Aquatic Centre on 4688 6330 for more information or to book. Creche fees can be found in the Milne Bay Aquatic and Fitness Centre fees and charges.
The creche is closed public holidays and for two weeks over Christmas.
Children's parties
Our current programs and events have been cancelled or postponed as from close of business 23 March 2020 until further notice.
What you will receive:
admission to the centre for children attending the party
use of wave pool and water slide (when operating)
parents and grandparents of the birthday child enter the facility at no extra charge
bag of lollies
hot foods
cold drinks.
Cost
Parties cost $16.50 per child.
How to book
For availability, additional information and bookings please call us on 4688 6330.

School, club and group entry
Current programs and events will be cancelled or postponed from midday 23 March 2020.
Milne Bay Aquatic and Fitness Centre can provide a range of exercise options for your school, club or group including dedicated lanes, to a casual group session using one or both of our leisure pools. Our most popular options are our end-of-year celebration options, school excursion groups, casual group entry and children's parties.


Adventure city for end-of-year school excursions
Our end-of-year celebration activity involves a two-hour session of aqua fun and action dedicated only to school groups during November and December each year. Students can enjoy a range of activities including swimming in the outdoor 50-metre pool and wrestling the giant inflatable, all whilst being supervised by our qualified Lifeguards. The program is suitable for years 3 - 12, for students with competent swimming abilities. The minimum group size is 25.
Included in these activity options are:
lifeguard to meet and greet your group
lifeguard supervision
activities and equipment
complimentary admission for teachers/supervising adults (one adult per 10 children).
How to book
1. To book, simply fill in the Pools - School end of year and fun program booking form Milne Bay Aquatic and Fitness Centre (online).
2. Read the Milne Bay Aquatic Centre - Risk assessment for school excursions.

Casual group entry
The other option for your school group or club is for general entry to the aqua area, where they can explore the options and create their own fun. The pools are open until 9pm every weeknight, to suit any group. To book a casual group entry contact the centre on 4688 6330 or email us
School end of year fun program venue and safety information
Before booking, the following information needs to be read. A PDF print version is available here: Pools - School end of year and fun program venue and safety handbook.
Teacher/carer to student ratio
The following teacher supervision ratios are required for students/schools when visiting Milne Bay Aquatic and Fitness Centre.
Standard (1:30). 1 teacher to 30 students.
There are exceptions to this ratio in the case of:
students with special needs who need full-time carers present with them.
a large amount of non-proficient or non-swimmers within a school group. Students who are non-proficient or non-swimmers must be accompanied by teachers for the course of the visit.
MBAC lifeguard supervision
The lifeguard supervision ratio is adjusted according to the standard of behaviour and standard of swimming displayed by the students. Normal operating procedure ratios are approximate:
(1:100) 1 lifeguard to 100 students swimming.
(1:40) 1 lifeguard to 40 students when the waves are on in the 25m pool.
Centre capacity whilst schools are visiting
The maximum capacity of visitors to MBAC when schools are attending is 600.
Equipment requirements
Student and staff are advised to bring the minimum following personal items whilst visiting MBAC (see our swimwear policy information below).
Proper swimming attire including rash top
Sunscreen (not Zinc)
Towels
Personal medications
MBAC staff supervision
All lifeguards have successfully achieved Queensland Royal Life Pool lifeguard qualification, CPR training, oxygen resuscitation and defibrillation training, bronze medallion and apply first aid certificates. Lifeguards hold blue cards as defined by the Commission for Children and Young People Act 1998 and have undergone a criminal check.
Keep Watch policy
Milne Bay Aquatic and Fitness Centre has adopted the Royal Lifesaving Keep Watch Policy:
Children (under 12 years) are not allowed entry unless under the active supervision of a person 18 years or older.
Parents and guardians should actively supervise their children at all times and be dressed ready to enter a pool. For 0–5 year olds and non-swimmers, a parent or guardian needs to be in the water at all times and within arms' reach of the child. It is best if you are engaging with your child i.e. playing with them, talking to them.
Constant active supervision is required for children aged 6–10 years old. Parents and carers must be prepared to enter the water with this age group.
For 11–14 year olds it is recommended that parents regularly check on their child by physically going to where they are in or around the water.
Active supervision at public pools consists of four key elements:
Be prepared: Ensure you have everything you need before getting into the water, such as towels and dry clothes.
Be close: Always be within arms' reach of your child.
All of your attention: Focus all of your attention on your child and get into the pool and talk and play with them.
All of the Time: You should never leave your child alone in the water, nor should they be left in the care of an older child or with the assumption that your responsibility diminishes due to the presence of lifeguards.
Safety rules and how to play safe
As a visitor to MBAC you must:
obey all safety instructions given by the operator or lifeguard.
follow all safety signage and displayed rules.
not engage in any unsafe or unauthorised activities that might endanger the health and safety of themselves, or any other person at MBAC, including reckless behaviour.
not deliberately damage, disable or deface any equipment, signage or device.
not run
Swimwear policy
Clothing, other than swimwear, can create problems with water clarity, pool disinfectant, and our water filtration systems.
Approved swimwear:
Swimwear made from lycra or nylon (to be worn at all times)
Waterproof swim nappies
Approved swimwear and waterproof swim nappies are available from the MBAC Swim Shop. If you need extra coverage for modesty or sun protection, rash vests can be worn.
Unacceptable swimwear:
Denim
Cotton t-shirts
Bike pants
Leotards
Boxer shorts
Female underwear
Male underwear
Sporting gear
Unacceptable swimwear is not limited to the above list. If you wear unacceptable swimwear you will be asked to leave the water.
First aid and evacuation guidelines
Milne Bay Aquatic and Fitness Centre is committed to providing a safe environment for staff and visitors utilising the facilities.
The first aid plan is to highlight and ensure there is sufficient coverage on the premises to respond to all first aid emergency issues for staff and visitors utilising the facilities. The first aid plan takes into consideration the operation carried out on the premises.
Type of work performed
Type of activities carried out
Potential injuries/illnesses and likely causes
Workplace hazards
Injuries and illnesses that may occur
In the event of any injury or illness, all lifeguards at MBAC will provide immediate first aid response. The lifeguards will also assess what further medical assistance is required.
MBAC is located on the corner of Herries and Victoria Streets Toowoomba. The nearest ambulance is 200m diagonally across the other side of Herries Street and the nearest hospital is Toowoomba Base Hospital which is approximately 2 km from the centre.
Location of first aid kits
Fully stocked first aid kits are readily accessible and located in the following areas
First aid room
Lifeguard console at front of house
Lifeguard station at waterslide
Café
Gym
Crèche
As well as the first aid kits, every lifeguard must wear a bum bag with essential first aid items. Inspection and replenishment of all first aid kits are undertaken as utilised and also on a weekly basis.
First aid room
A fully equipped first aid room is available and is located near the hydrotherapy pool. The lifeguards are in charge of operating and maintaining the first aid room. Lifeguards are required to inspect, replenish, clean the first aid room, including all first aid kits, pocket resuscitation masks, defibrillator, oxygen equipment and all rescue equipment in the centre on a daily and weekly basis. The first aid room is well lit, ventilated and maintained. Maintenance of the first aid room is conducted on a weekly basis with a checklist outlining the procedures. A checklist is also available for the weekly checking and restocking of first aid equipment.
Emergency rescue assistance equipment
Rescue equipment located in many areas of the centre includes:
Fire extinguishers
Hose reels
Fire blankets
Buoyancy and reaching aids
Throw ropes
Spinal boards
Resuscitation masks with one-way valves
Defibrillator
One AED is located at the lifeguard console at the front of the Aquatic Centre, with provision for adults and children.
First aid emergency and evacuation procedures
In the event of an evacuation of the centre, all patrons and swimmers must obey the commands of the chief fire warden and the lifeguards. The muster point is on the corner of Herries and Victoria Streets on the grass area. The first aid officer and lifeguards are responsible for providing primary care to any personnel suffering from injuries prior to the arrival of the appropriate emergency service.
Duties of the first aid officer
On becoming aware of an emergency, the first aid officer must:
obtain a portable first aid kit and report to the floor area warden.
attend to any injured personnel.
carry out duties as requested by the chief warden or the area warden.
when evacuating, report to the assembly area with the first aid kit and oxygen equipment and be prepared to offer assistance where necessary.
Documentation
All injuries will be documented by the lifeguards on a MBAC first aid injury form and also on a Council non-employee incident form. All forms are inspected, signed off by the manager and emailed to Council's safety department.
Swimming carnivals
Booking the Aquatic Centre for a swimming carnival
Milne Bay Aquatic and Fitness Centre is perfectly set up for swimming carnivals and swimming trials.
Several factors are considered prior to conducting major events. These include:
Interruption to facility use by MBAC members. General guidelines have been developed to reduce the impact of major events on members of MBAC and the general community utilising MBAC.
Disruption to local businesses. General guidelines have also been developed to reduce the impact of major events on local businesses. Cooperation, planning and effective communication are key elements to successful major events. MBAC's Aquatic Team Leader is available to assist in planning your event.
How to book
Before booking MBAC for a swimming carnival or swimming trials, please read the following information below or print out the Swimming carnival guide for schools and clubs (PDF).
Fill in and submit the Pools - School or club swimming carnival booking form (online).
Swimming carnival guide for schools and clubs
Available facilities
The following facilities are included for use:
8 lane, 50 metre outdoor heated pool
Shaded, grassed area to the north of the pool
Grandstand
Outdoor change rooms/toilet facilities. Change room congestion is greatly reduced when students wear their swimwear to the centre.
Fees and charges
Fees can be found in the Milne Bay Aquatic and Fitness Centre fees and charges. All swimmers/ competitors (and spectators/parents if requested) will be counted and an invoice will be issued upon confirmation of competitor numbers of carnival. Teachers and officials will not be charged.
Equipment
The centre provides the following equipment for school carnival use:
20 chairs
10 tables
PA System
False start rope
Lifeguard (s)
Starting blocks
No other equipment is available.
Electrical equipment
Permission to use any electrical equipment other than that supplied by the venue must be requested to centre management when submitting carnival application Any electrical equipment permitted must be safety tagged by a qualified electrician and approved by the centre management (as per the industry standard for use of electrical equipment).
Public address system
The public address system is provided for marshalling and general announcement purposes. The busy carnival season at MBAC creates some hardship for businesses. Minimal use of the PA system assists in alleviating the distress of our neighbours.
Public liability
The user group shall provide public liability insurance to the value of $10 000 000. The hirer must provide the centre with a copy of this insurance note when submitting the booking form.
Entry & exit to the pool
The indoor facilities at MBAC are out of bounds and not included in the carnival booking. School entry and exit to the centre is via the double gates into Victoria Street. The teacher in charge is requested to ask at reception for the aquatics team leader, who will liaise with school staff throughout the carnival.
Area restrictions
Students are not permitted to use or congregate indoors. This area is designated out of bounds. Students are restricted to outdoor facilities. It is anticipated that the school's duty roster will make provision for the posting of teachers at each entry door to MBAC's indoor facilities to supervise this restriction.
General public
The outdoor area is closed to the general public up to an hour prior to the Carnival and up to an hour post carnival.
Dismissal
It is the responsibility of the school to ensure that all students are required to leave the centre at the completion of the carnival and exit via the side gates. Students may not be dismissed from school activities within the perimeter confines of the centre. This requirement includes students dismissed into a parent's care. Students wishing to re-enter the centre will be required to pay the standard entry fee.
Student code of conduct
We realise that 'out of school days' create an atmosphere of excitement and freedom from the general daily routine. The behaviour and demeanour of students are expected to be respectful of the fact that MBAC is a community activity facility. Centre members, other school groups, parents with young children and older adults will be using the centre at the same time as the school. Students are expected to observe and abide by the safety rules and restrictions in place.
School staff
School staff will be required for a variety of roles throughout the day. These will include:
Supervision
A roster of duty teachers to ensure restricted areas are maintained and safety guidelines are observed. A duty roster should include:
Regular checks of the indoor area (pools, pool decks, change rooms, café).
Close supervision of students if they are required to enter the main building.
Close supervision of lawn areas, including regular checks behind the water slide and outdoor change rooms.
Administering first aid as required. The user group must have at least one First Aid Officer present with relevant qualifications.
Marshalling
A minimum of two school staff members will be required for marshalling duties for all events. The area adjacent to the pool concourse (at the deep end) is reserved for marshalling.
Event officials
Announcer: to use the public address system to call students for marshalling to events
Starter: to operate the starting hooter for events.
Timekeepers: To time students competing in each event. At least one person will be required per student in each event.
Recorders: To record place getters for each event. At least one person for the first four placegetters in each event.
Swimming attire
All swimmers/ competitors must wear appropriate swimming attire; this includes nylon, lycra materials and excludes cotton, denim, and polyester. A swimmer/ competitor found not wearing appropriate swimwear will be asked to exit the water. Crepe paper and or body paint are NOT to be brought into the centre.
Free time / free swimming / recreational swimming
Under NO circumstances is 'free swimming', 'free pool play' or recreational swimming permitted. The facility is hired for the specific purpose of conducting competitive swimming events where the maximum number of students in the pool at any one time is 8. Free swimming, free playtime or recreational swimming is unstructured and difficult to supervise in a hazardous environment and is deemed detrimental to safe risk management strategies.
Full cooperation with this policy is anticipated. A failure to cooperate may result in the school being asked to cease all activity or result in restrictions being placed on the day's events
Refreshments and food
The cafe at MBAC offers a range of food and refreshments to teachers and students. When placing your booking please advise if students will be permitted to purchase from the Cafe. This will enable the café coordinator to roster extra staff for your event.
The sale of food by the school is strictly prohibited. Prior approval for fundraising activities such as raffles, sausage sizzles and display of advertising materials must be gained at the time of booking.
Disposal of litter
Ample rubbish bins will be in place during the busy carnival season. The grounds and facilities at MBAC will be clean and ready for use. We request that schools take time prior to departure to ensure all litter and rubbish is placed in the bins provided.
Any damage to any part of the centre by any person belonging to the user group will be the responsibility of the user group. If at any time the centre is left in a damaged condition then the user group will be responsible for the payment of a repairers charge. This fee is payable within 7 working days of the issue of the invoice.
Incident and hazard reporting
Incidents and or hazards that occur within the hired facility must be reported to management as soon as practicable on the day by either the hirer or user. MBAC will provide the necessary forms.
Alcohol
Alcohol is not permitted within or on any of the facility or with the grounds of MBAC.
Emergency evacuation plan from the 50m pool
The evacuation alarm sound is 'whoop, whoop, whoop'.
Upon the sounding of the evacuation, or upon the direction or wardens, all personnel within the building will be required to:
cease all activities immediately and shut-down any equipment.
gather any personal belongings in close proximity and evacuate via the nearest emergency exit.
respond to all directions given by the wardens.
move to the assembly area immediately.
remain in the assembly area until given further in instructions.
Inflatable courses - Freckles and the dual racer
Current programs and events have been cancelled or postponed from midday 23 March 2020.
Milne Bay has two exciting blowup obstacle courses for children to enjoy that run over the weekends and on school holidays from 12pm to 4pm. Climb, crawl, race and finish with a splash!
Have fun on either:
Freckles the dragon is a customised model specifically designed for younger children aged 5 to 10 years.
The exciting dual racer designed with hurdles, logs, biff bash poles, a hole in the wall and a slide is for children 10 years and over.
The inflatable course that operates is dependent on the age group of the patrons. This may change throughout the day. The operation is also dependent on weather conditions and lifeguard availability.
Aqua cycling
Milne Bay Aquatic and Fitness Centre now offers aqua bikes for hire. Use the bike to split your workout without getting out of the pool. Get creative, swim, walk, cycle, tread water and cycle again. This rigorous cardio workout burns calories using the resistance of the water, whilst being gentle on joints.
Bike hire is only $5 per 30 minute session. Bring a few friends and create your own training session.
To book call the centre on 4688 6330.
Pro shop
The Pro shop is currently CLOSED.